Week 15
3/12/2012 - 3/18/2012
Belly is starting to pop a little! I think such a momentous occasion calls for another undies shot, don't you?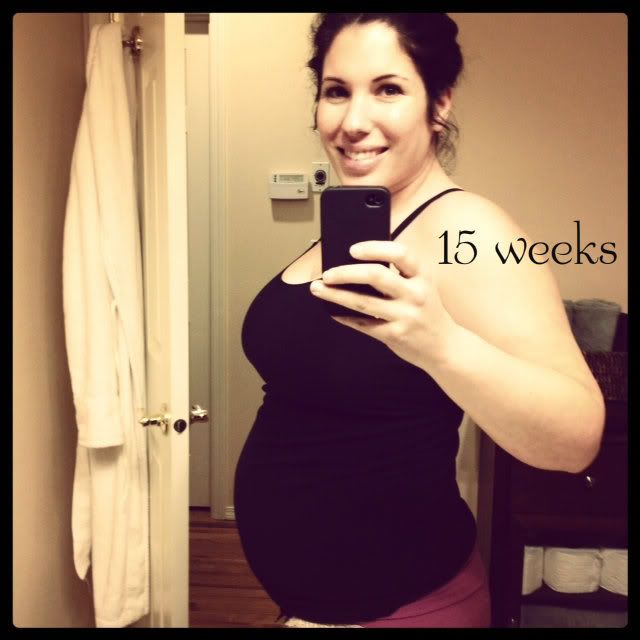 Milestones: I bought some new maternity jeans this week! No more holding my pants together with a rubber band (and inadvertently flashing my underwear to all my coworkers).
Size of Meatball:
About 4 inches long, or the size of an apple.
Symptoms:
Although I can tell I'm starting to slowly feel better, this week I was battling a few other illnesses. So it was a smorgasbord of crumminess.
Food cravings: Still English muffins covered in applesauce. And cheese. Mmmm...cheese...
Food aversions: Coffee. Ken had to change clothes after a Starbucks run one day. Also, any and all meat. Especially the "c" word (chicken).
Weight gain: I actually GAINED 0.6 pounds this week! Total change is a loss of 10.2 pounds.
Week 16
3/19/2012 - 3/25/2012
I got me some fresh mountain air this weekend!
Followed by bubbles in the bathtub (complete with rubber ducky thermometer to make sure I don't cook meatball).
Milestones: Baby is kicking out the walls in there! And really loves (or hates) The Hunger Games movie. There was lots of action going on in my ute in the theater. I think it might have been from all the rumbling from the surround system.
Size of Meatball:
About 4.5 inches long, or the size of an avocado. Is it weird that I've been craving guacamole this week? I feel sort of like a cannibal.
Symptoms:
For the first time in over 3 months, I woke up on Friday morning feeling BRILLIANT! It was so marvelous. It lasted until Saturday night, and then the nausea came back, but in a much milder form. Other symptoms include fatigue, dizzy spells, and itchy skin. I'm walking around scratching myself like a meth head.
Food cravings: Chips with guacamole, baked potatoes, eggs benedict, and french toast. So basically, unhealthy crap.
Food aversions: Still coffee and meat. I think I'm ruined for coffee forever.
Exercise: A swim and a fabulous snowshoe in the mountains.
Weight gain: I gained again this week. No surprise, since I ate like a total pig. But 3.2 pounds! In one week! Net loss is 7 pounds.